Overview
California's Comprehensive Youth Corrections Realignment Reform
In 2007 Commonweal helped California lawmakers design a sweeping reform of the state youth corrections system. This reform law— Senate Bill (SB) 81—moved thousands of juveniles out of costly, violent and under-performing state institutions into local service networks supported by nearly $100 million per year in state funds. The California law represents the nation's most comprehensive youth corrections realignment reform as measured by the number of youth and the magnitude of funding.
SB 81 – Key Elements of the Reform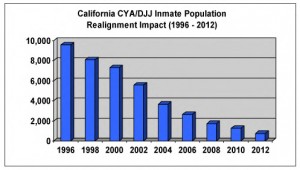 In 1996, the inmate population of the California Youth Authority (CYA) peaked at 10,000 young offenders packed into 11 large institutions. Over the years, CYA had compiled a dismal record of overcrowding, gang violence, bad programs and high failure rates. In 2005, litigators won court-ordered changes that pushed state CYA cost to astronomical levels. By 2007, lawmakers were primed to replace this costly corrections dinosaur. With the Governor's support they passed a landmark California juvenile justice "realignment" law, known as Senate Bill 81.
Senate Bill 81 was a robust and comprehensive measure to "downsize" the Youth Authority, which by then had been renamed the "Division of Juvenile Justice" (DJJ). SB 81:
Banned future commitments of youth with non-violent offenses, keeping DJJ open only for those with serious crimes that qualified for prosecution in criminal court.
Transferred responsibility for processing of realigned youth, including parole violators, to county courts and probation departments.
Established the Youthful Offender Block Grant fund to pay counties for the shifted caseload.
Current Status of Juvenile Justice Realignment in California
As of 2013, the inmate population of the state Division of Juvenile Justice had declined to fewer than 800 youth. Juvenile justice realignment is still evolving in California. 2009 amendments tightened planning, spending and reporting requirements for counties receiving state funds. Continuing issues are:
Lack of county data on caseloads and outcomes of realigned youth.
Concerns about state funding: future levels, county allocation formulas and controls on spending
Need for stronger state oversight and technical assistance to promote effective and evidence based local practices
Concern that if DJJ is shut down completely, current inmates (now eligible for release by age 23) will be sacrificed to long terms in the state prison system